Produce children's programs, kid's shows and series efficiently – collaborate online with a modern workflow. 
Children's programs can take many forms; feature films, drama and animation series, entertainment, factuals, magazine formats, web and video content, live and studio shows – or a mix!
With three different script and rundown formats, you can select which format best suits your particular content. You can also mix script formats; use the screenplay format for pre-produced drama and docudrama content that gets mixed into a live or live-to-tape rundown as EVS content. 
In Dramatify, you and your crew and cast get an integrated, flexible collaboration workflow platform specifically developed to support modern film, TV and video production demands. You can produce one-off events and features, series or daily shows. It's that flexible!
Collaboration workflow from budgeting to playout!
Save time and money! Collaborate and communicate efficiently from budgeting to playout, or pick and choose which features suit your specific production.
Your team get the information they need according to their role and the access level the production has given them – without an overworked production assistant in the middle and without printing lots of single-use, throwaway information on paper. Go green!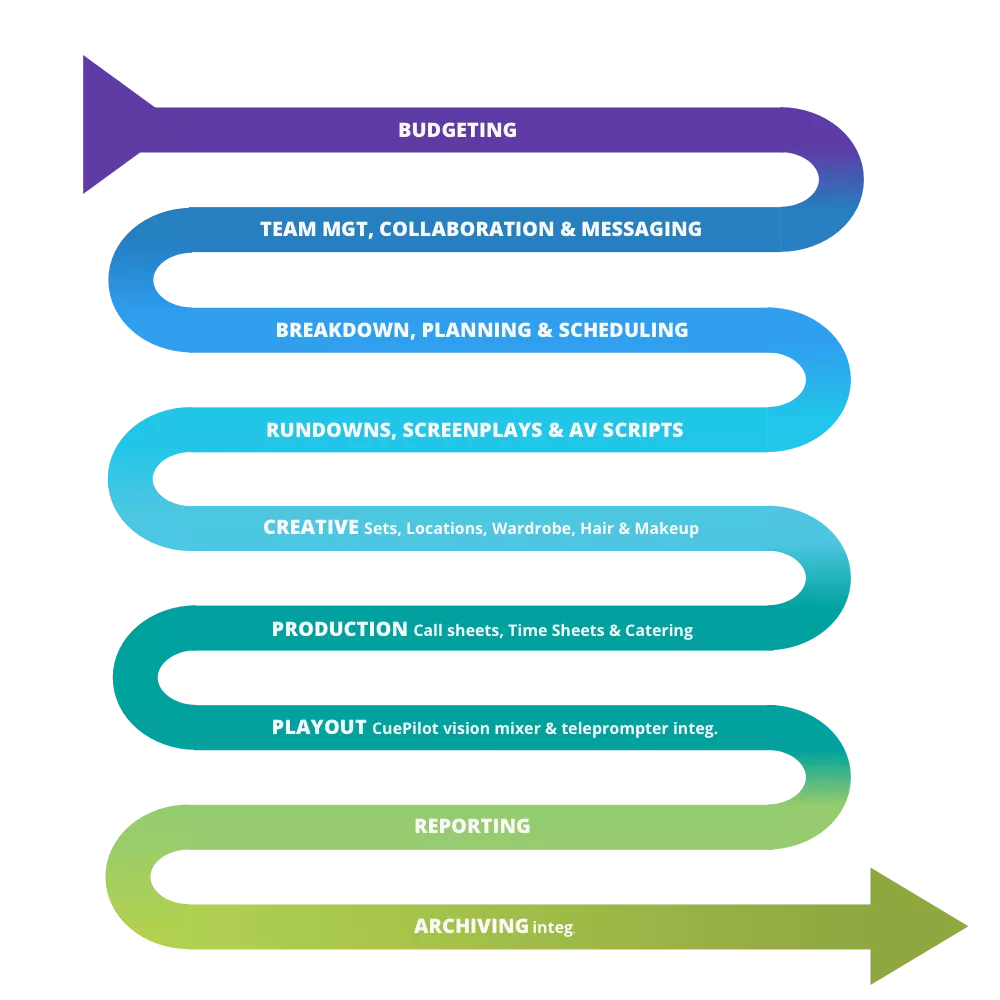 Keep updated with the dashboard!
Everything is in one place! Just log in to Dramatify, and you will immediately see your dashboard of today's planned activities and events, call sheets, automatic production updates, new messages, documents, and new team members. Everything is available with a click!
Three different script formats
With three script formats, Dramatify lets you write your show in the way that fits your project best – or mix formats! Drama can be part of a live or studio show rundown. Or use the AV script to storyboard a drama scene. Creativity is the limit. Not your software!
Learn more about screenplays, rundowns & AV scripts »
Estimates & Budgeting
Budget your production for children and kids with Dramatify's modern budgeting solution. You can import existing information from crew, cast and breakdown information to reduce typing, double-check that everything is accounted for, and upload cost specifications for transparency. And, of course, you can share it with colleagues, view your budgets on any device and on the go!
Planning & scheduling
Dramatify's large planning & scheduling suite spans from the overall plans to detailed day schedules and integrated call sheets. Features can be used separately or all together and shared with your team.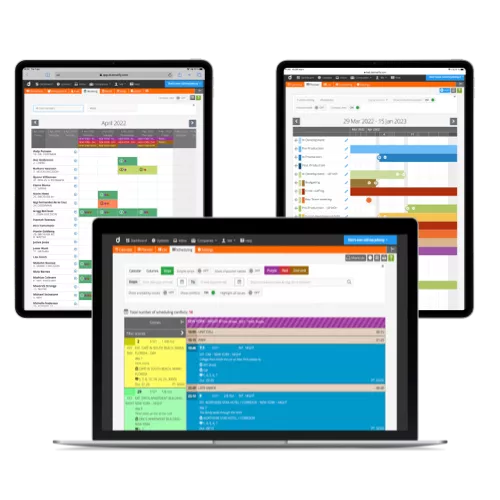 Manage actors, hosts and participants – of any age!
Dramatify has a fully-fledged solution for managing cast, characters, hosts and participants, from personal profiles to character information. Dramatify is also set up to manage children on set with guardian information and specific flags to comply with working hour regulations.
Learn more about cast and character management »
Smart set and location management
Regardless of what you will produce, Dramatify's set and location features make it easy for you and your team to gather the information in one place instead of a dizzying array of shared folders and documents.  If you are producing kid's animation, think of sets as backgrounds!  Of course, we provide maps and automatic weather reports!
Learn more about set management »
Scene lists, stripboards, running orders & continuity
Dramatify offers super-configurable reports and running orders:
Scene list with easy formatting of strips, extensive filters and sorting features that can be used for continuity
Shooting order stripboard with easy formatting of strips, extensive filters and sorting features that can be used for rundown reports
These can be formated as running orders, continuity and character continuity
Easily print handouts or pdfs
Learn more about Story Order and Running Order >>
Reports & handouts, documents & files
The Dramatify platform provides customizable lists and reports that can be easily tailored, enhancing efficiency for children's programs and kid's show production.
Team members can access relevant information effortlessly and benefit from an automated daily production report that covers the essentials comprehensively. Collaborate seamlessly by uploading and sharing documents and files with your crew and cast without additional logins or accounts. You can also conveniently create and distribute link collections among your crew, facilitating the sharing of dailies, graphics, and music files.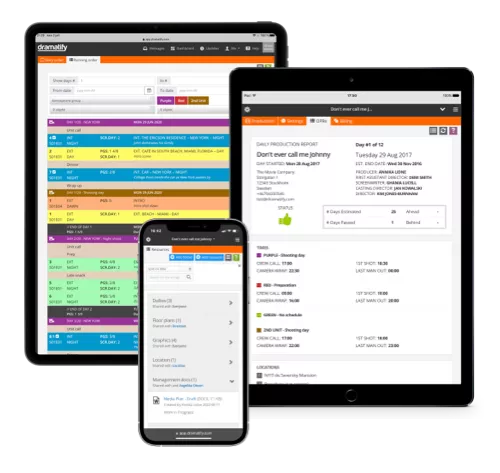 Frequently asked questions
Can I import an existing or old budget to Dramatify?
You can export a budget from Movie Magic Budgeting in the XML format and then import that to Dramatify. All information will be correct save fringes, as Movie Magic does not include fringes in the export.
Can I upload a script for a childrens' show to Dramatify?
You can upload screenplays and scripts in the industry-standard .fdx format to Dramatify's screenplay template. Most screenwriting programs can export in the .fdx format.
Do you have rundown templates for childrens' programs?
Dramatify's easy-to-use rundown format includes a selection of commonly used information containers and assets, ensuring you format your content correctly. After structuring your show rundown, you can copy it to use in the next episode.
Does Dramatify support cue cards or teleprompters for kid's shows?
With our rundown format, you can help your hosts, actors, and participants remember their lines through automatic cue cards for devices and print and teleprompter exports. Note that teleprompter feeds are not included in all plans.
"Dramatify streamlines productions. Everything for everyone is in your mobile in real time. No emails, no shared document, no missing info, no different versions. Everyone here just loves it!"
Gala show director, Europe
Questions? Want a personal demo? Contact us!
Try Dramatify today!
30 day free trial. No credit card required.