Budgeting for film, drama, video & TV
Try the NEW integrated film & production budgeting in the cloud with innovations that gives you superior workflow & budget control!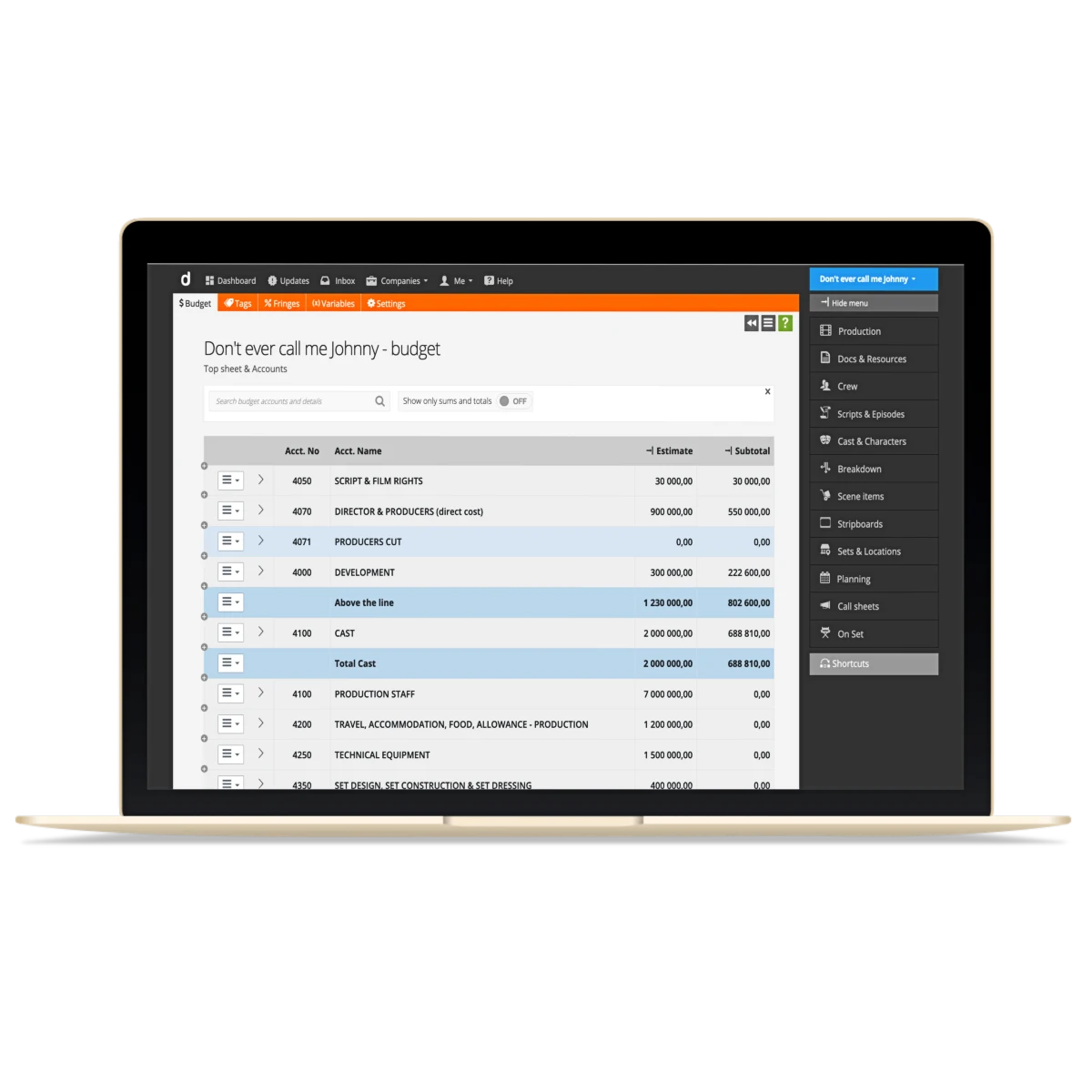 Integrated film & production budgeting
Access your budgets on the go!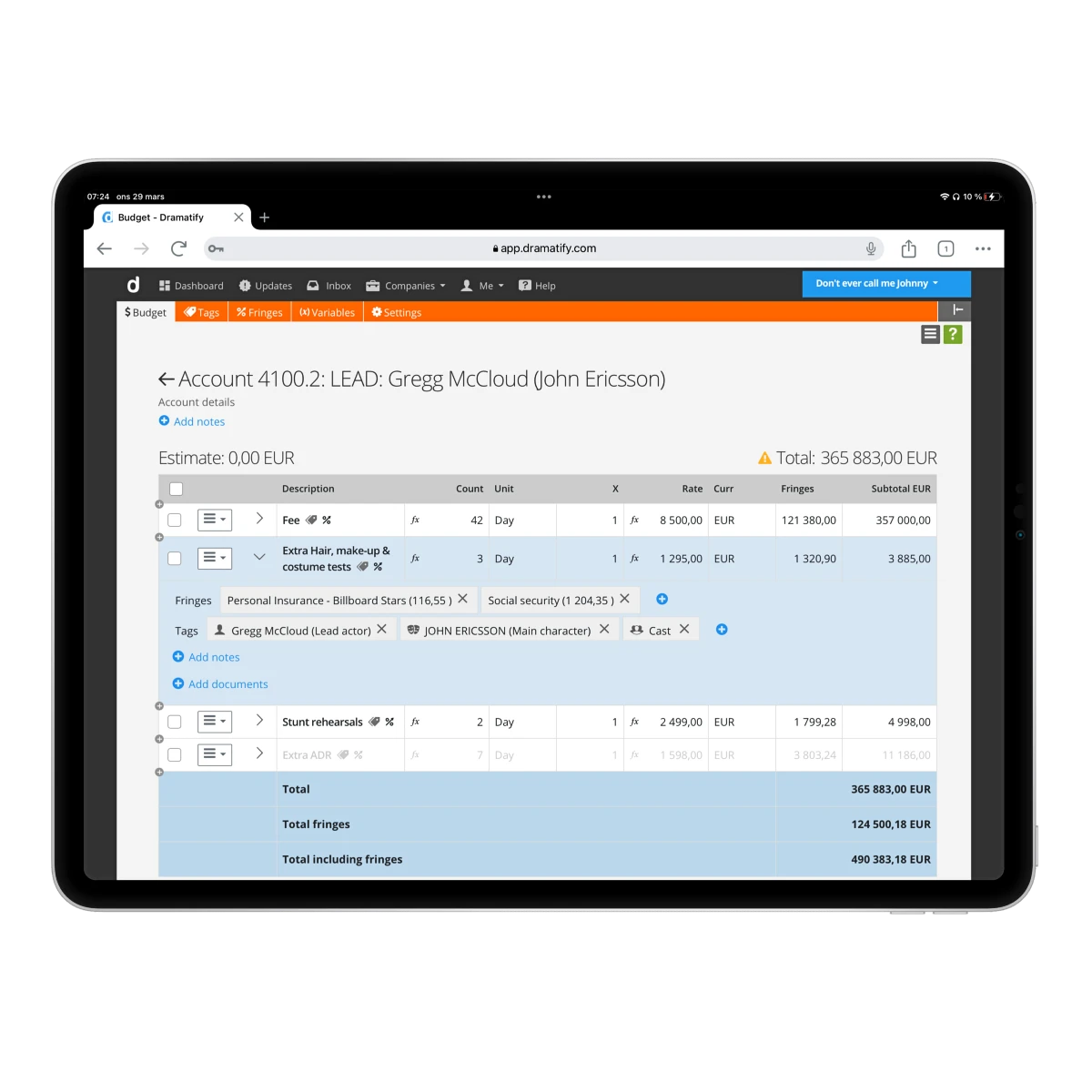 Account details with notes & cost spec docs attached.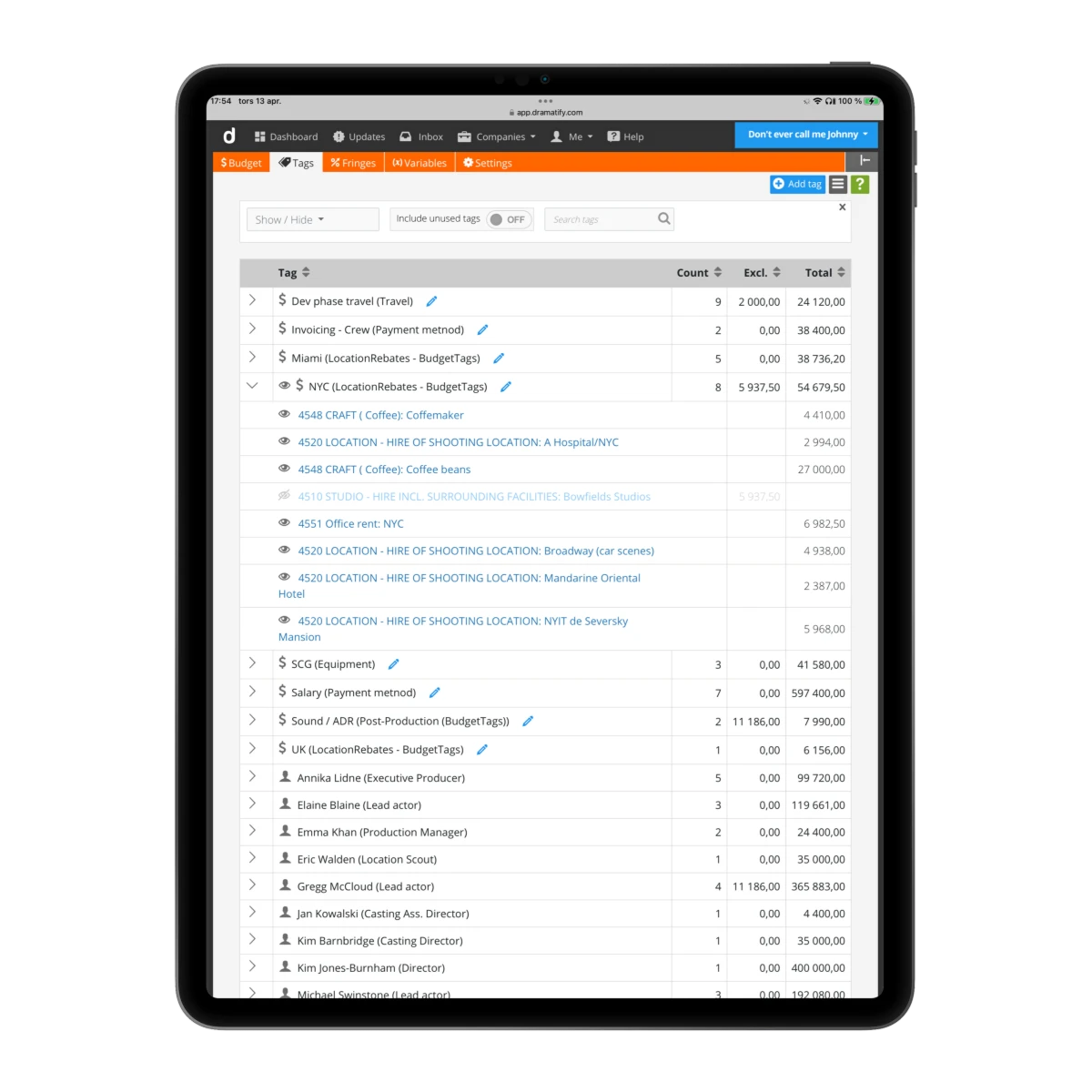 Extensive tagging creates amazing overview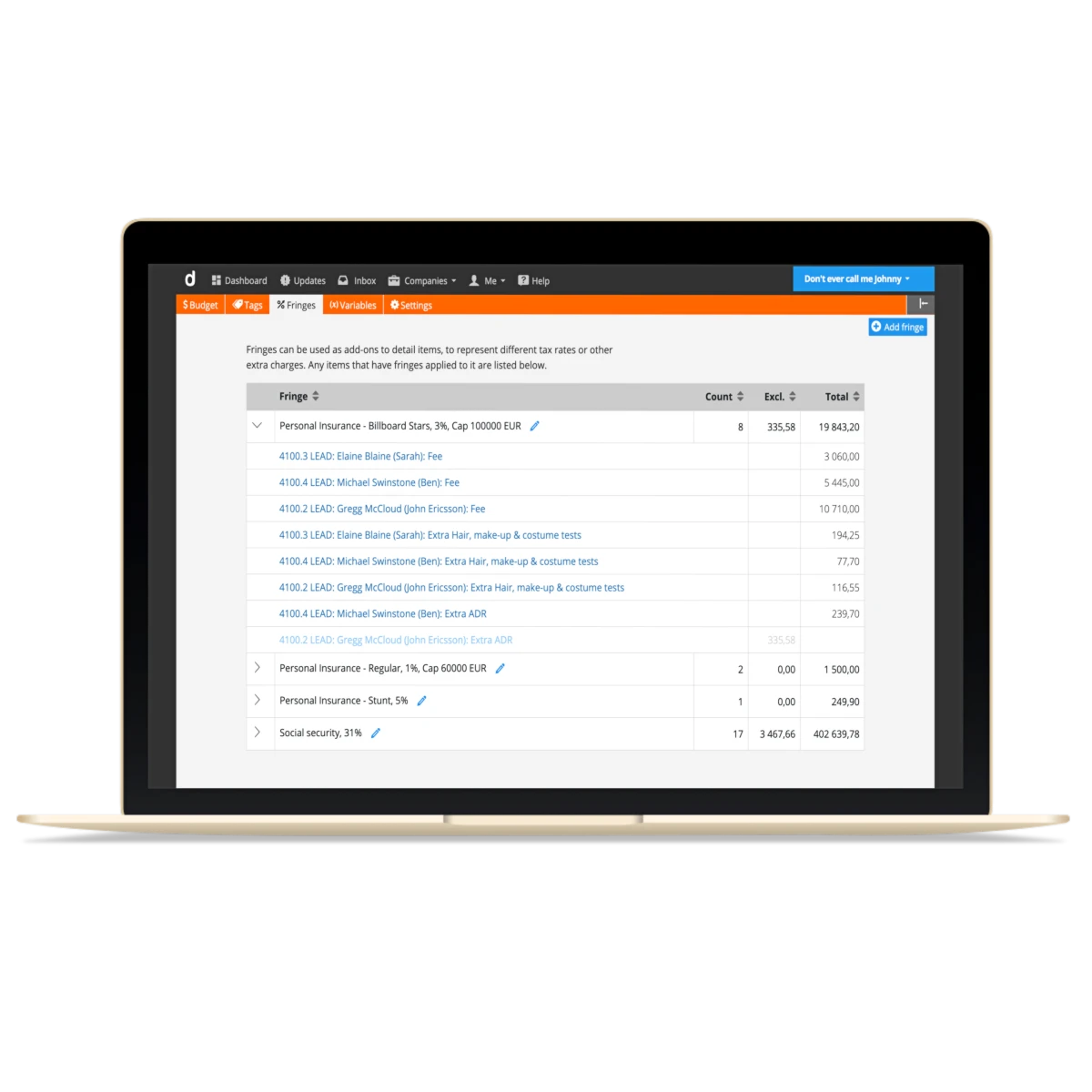 Fringes, variables. credits & charges with easy overview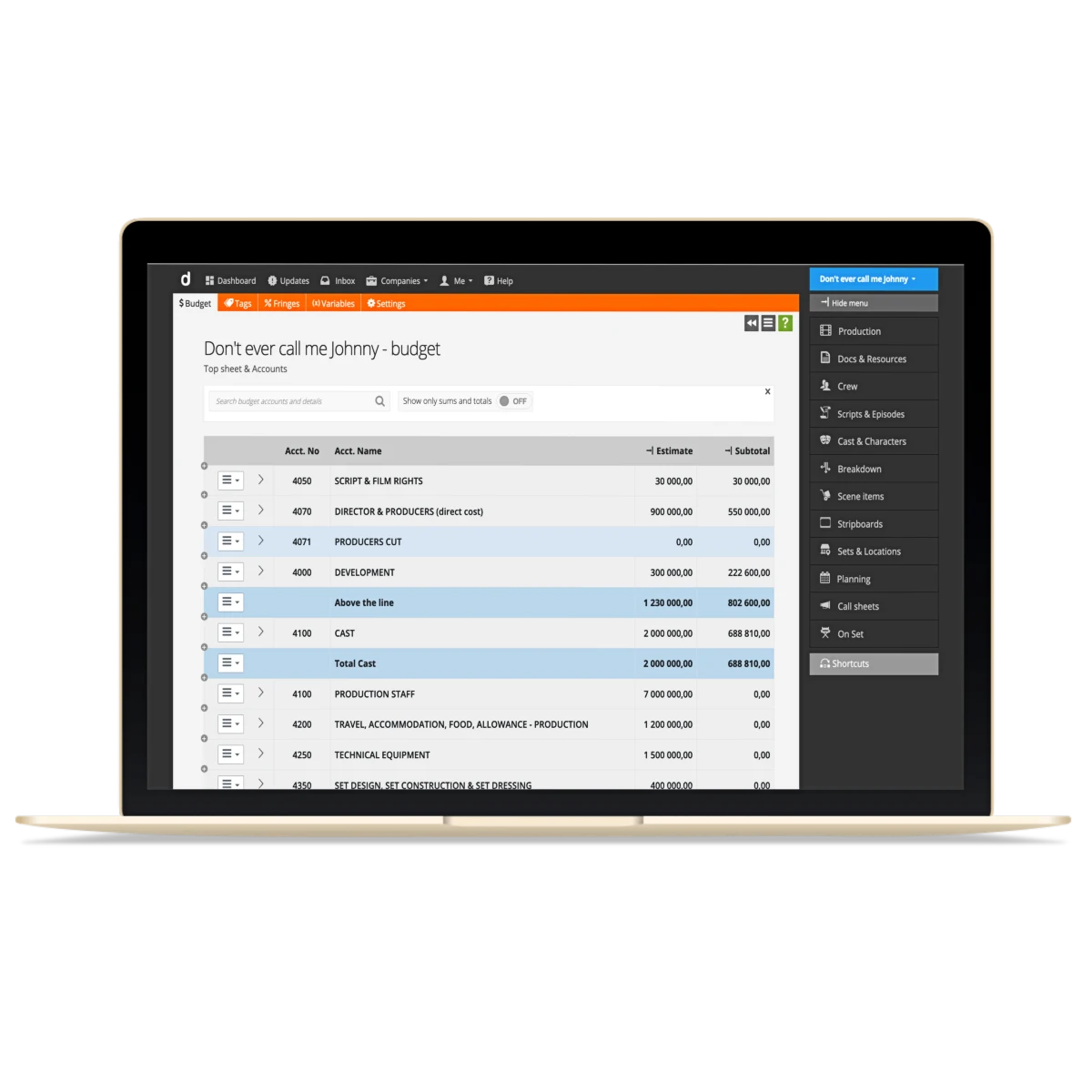 Integrated film & production budgeting
Access your budgets on the go!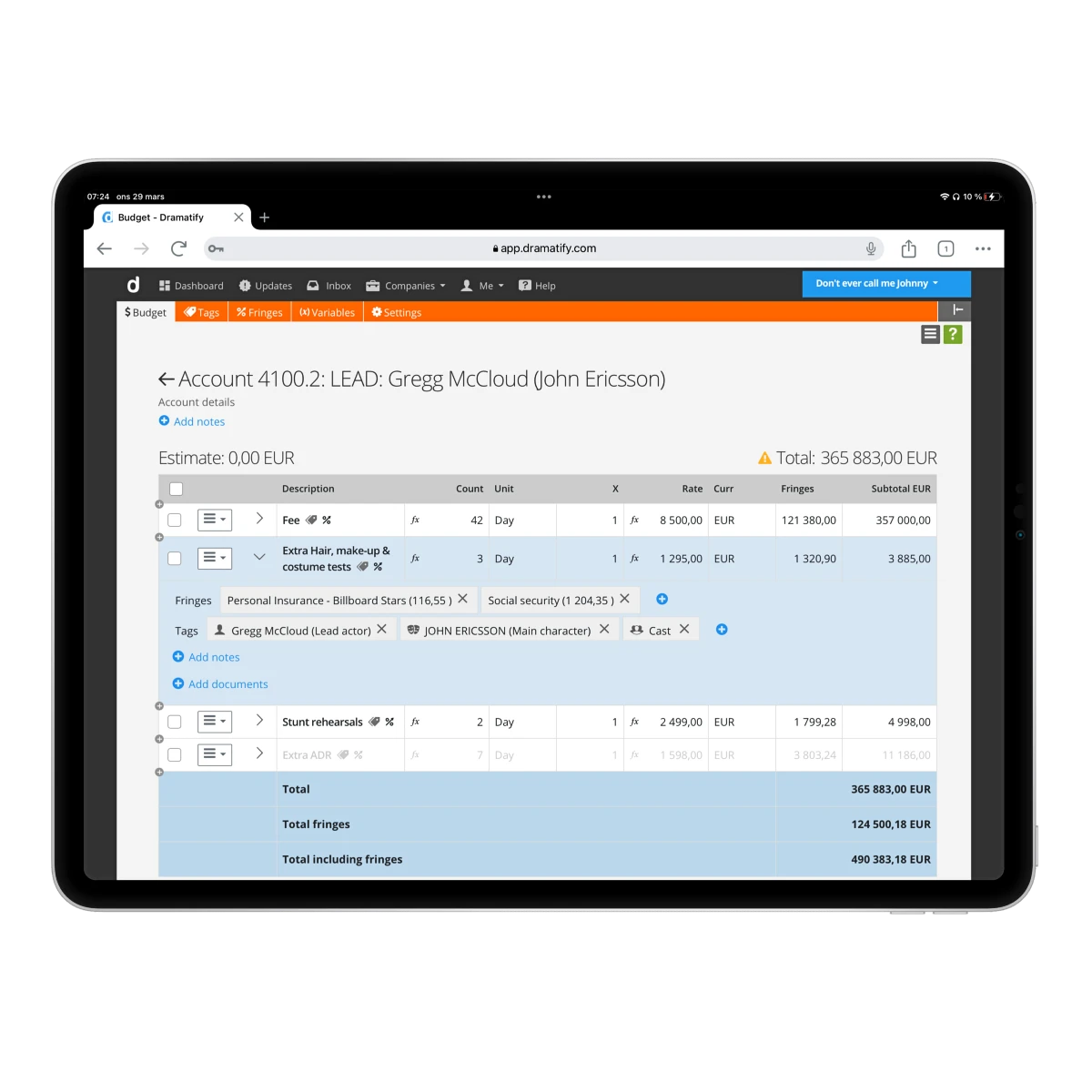 Account details with notes & cost spec docs attached.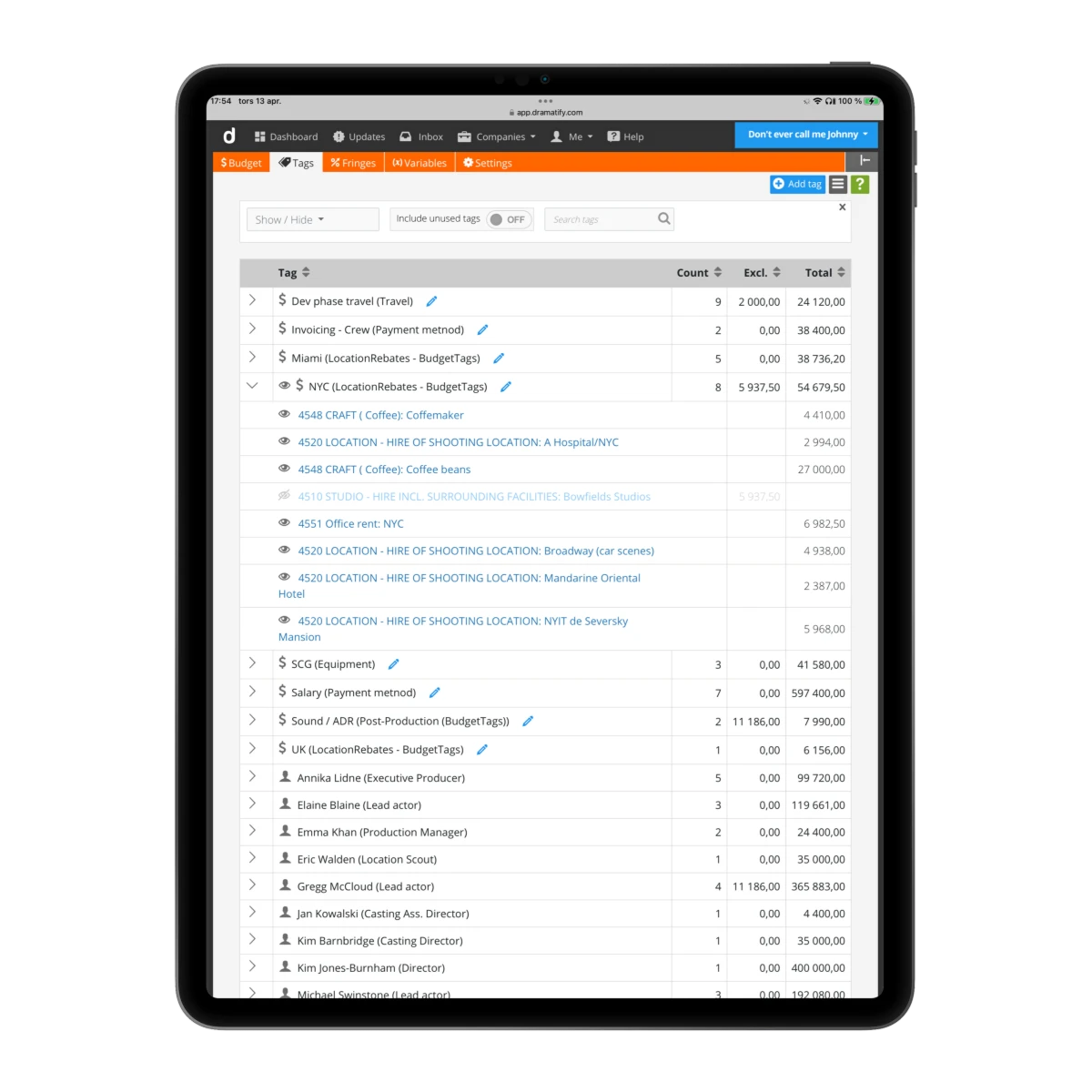 Extensive tagging creates amazing overview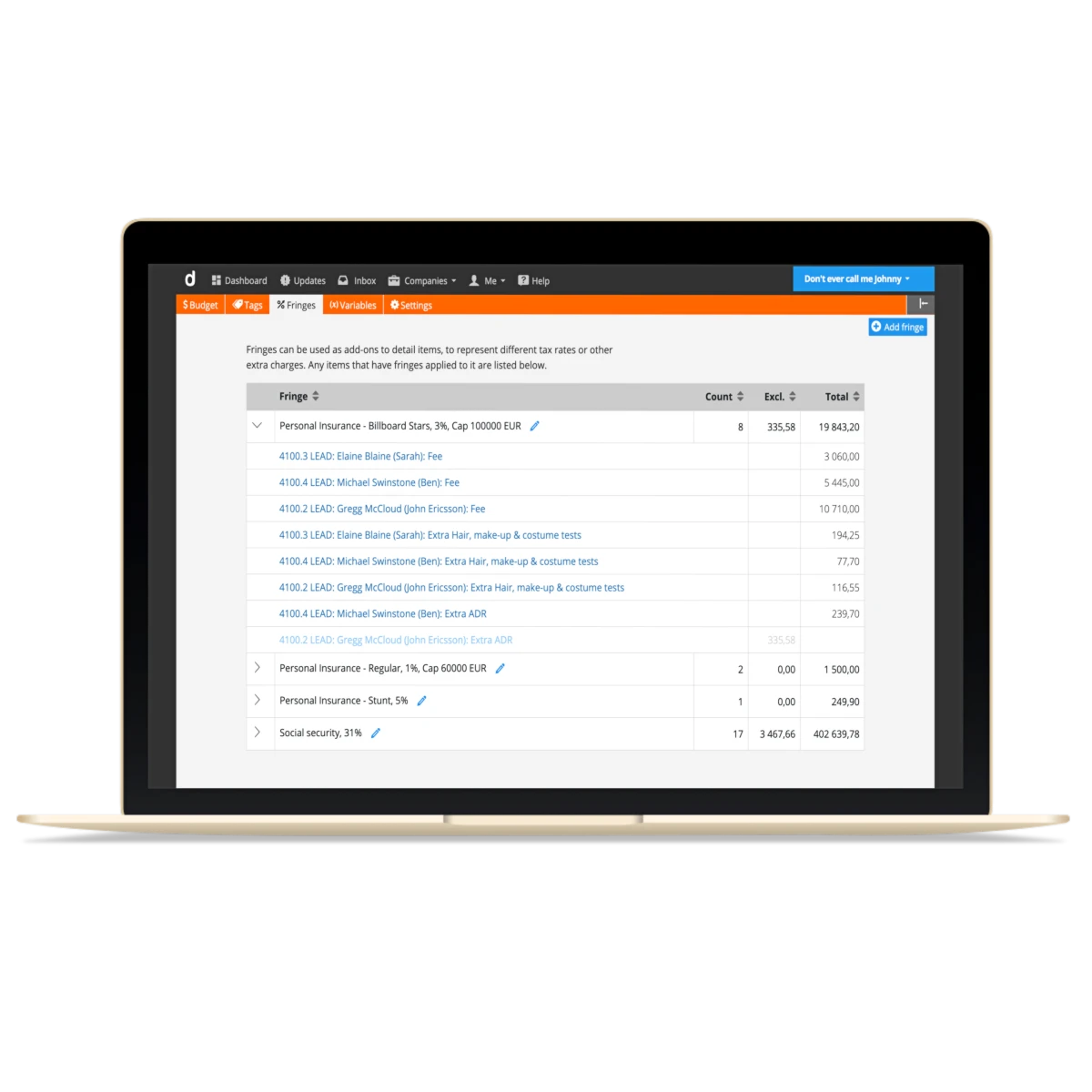 Fringes, variables. credits & charges with easy overview
Master Film Budgeting and Streamline Your Film Production Budgeting Process
Managing film budgets can be daunting. That's where Dramatify comes in – offering a new and exciting integrated solution that streamlines film budgeting and production budgeting – giving you superior control and saving you time, money and frustration, regardless of whether you're working on a video, film, drama, TV entertainment, non-fiction, sports or branded content production.
Commissioner templates & Movie Magic Budget import
Dramatify's innovative
film budgeting
and production budgeting solution caters to the modern entertainment industry, making it easy to move beyond spreadsheets and outdated film budgeting software. Discover how Dramatify Budgeting can enhance your financial planning and help you achieve more with fewer resources.
User-Friendly and Accessible Across All Devices
Dramatify has reimagined the traditional budget layout to make using and comparing accounts simple and intuitive. Through the easy-to-understand navigation, you can begin working on your film budgeting in seconds. The platform is accessible across all devices, allowing you to work on a big screen at the office or check budget details on your mobile phone during a call.
Dramatify Budgeting includes all classic film budgeting and production budgeting features like fringes, variables, charges, and credits – but smarter and faster! Share your budgets and collaborate effortlessly with team members by granting access without the need for exporting, printing, or emailing.
Save Time with Intelligent Breakdown Integration
Specifying account and item information for a large production can be a nightmare. Dramatify simplifies this process by importing departments, crew and cast, and breakdown items such as characters, sets, and locations – no typing required!
Revolutionize Your Film Production Budgeting with Budget Modeling and Tags
Tags allow you to access cost summaries for budgeted items on different accounts, making it easier to monitor your spending. With automatic listings, you can ensure that all necessary team and breakdown information is accounted for in your budget. Create custom budget tags for overviews that typically require manual work or tag locations to compare tax rebates.
Keep Track of Costs, Agreements, and Information with Ease
Dramatify lets you add notes directly to accounts and line items and upload cost specifications to line items to keep track of the source. This eliminates the need to search through emails or other records for cost specifications and allows you to maintain a clear record of your expenses.
Multi-Currency Budgeting for International Co-Productions
Dramatify supports multiple currencies, making it a breeze to manage international co-productions. Easily add a secondary column on the top sheet to display your budget in two different currencies, with a convenient dropdown to change currency on the fly.
Film Budget Templates and Movie Magic Budget Import
Dramatify offers templates from The Swedish Film Institute, Netflix, Warner, Disney, and HBO, regularly adding new templates.
You can also import your latest Movie Magic budget as an XML file and start working in Dramatify Budgeting in seconds.
Effortless Printing and Exporting
With a user-friendly interface, you can print and export your budget as needed, from top-sheet sums and totals to the entire budget, including estimates and line items.
Discover the difference Dramatify's film production budgeting solution can make for your next project. Say goodbye to the frustration of managing spreadsheets and old-school desktop programs, and take control of your film budgeting with ease.
Features integrated with Budgeting!
Budgeting smartly integrates with a number of features, making your job easier!
Try Dramatify today!
30 day free trial. No credit card required.