Dramatify's breakdown supports unlimited scene splitting and integrates with many of the pre-production core features.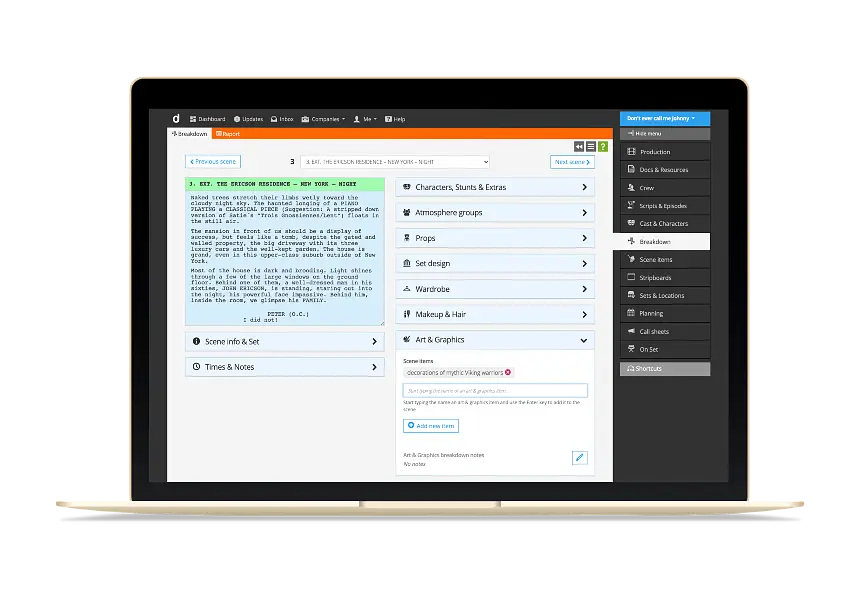 Script breakdown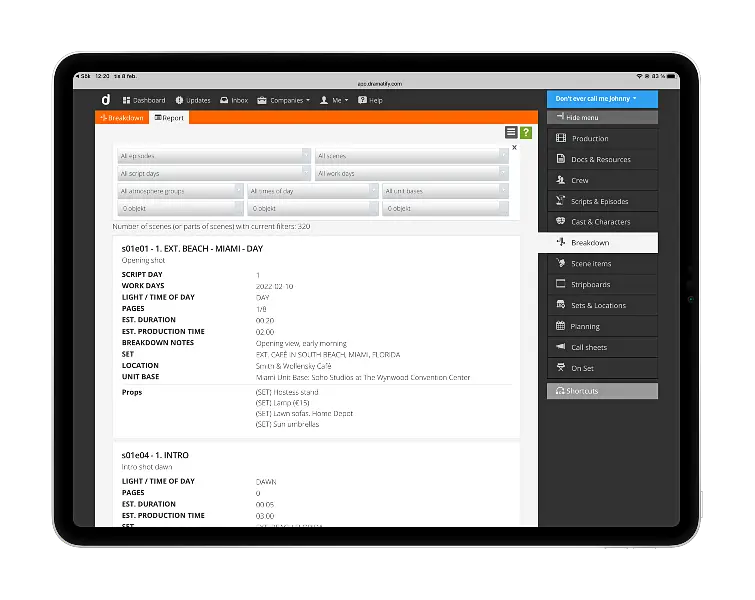 Breakdown report - very easy to customise!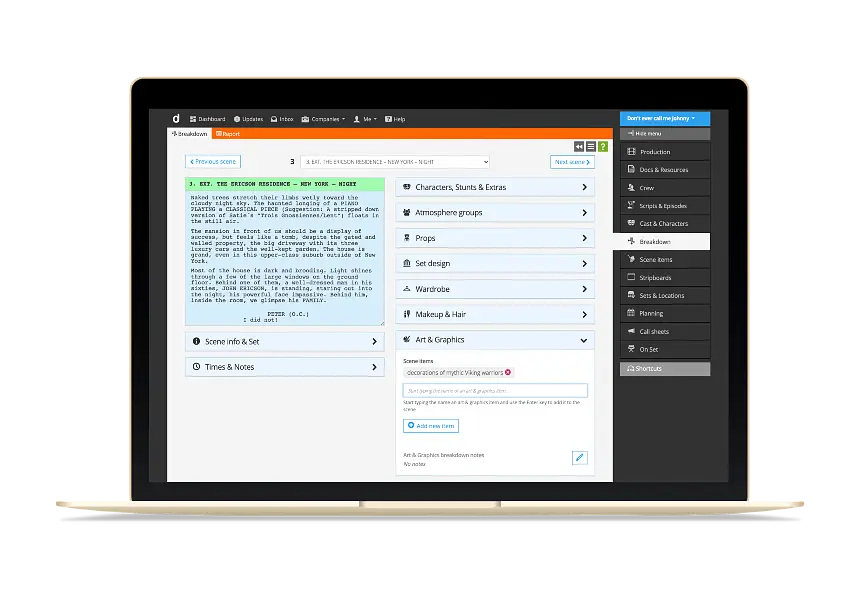 Script breakdown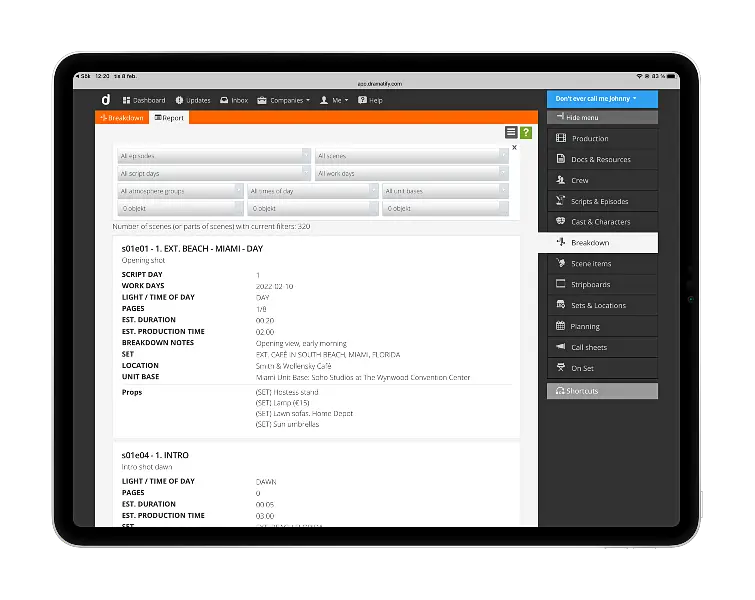 Breakdown report - very easy to customise!
Script breakdown – the core of your pre-production
Breaking down your script – screenplay, AV script or live & studio script – is one of the most important steps in the pre-production. With Dramatify, it's a central information hub where different team members can breakdown the script according to their needs, roles and allowed access.
Script breakdown in Dramatify is closely tied to the screenplay, the AV script, the multi-camera live/studio script, the scene items management, the scheduling and the call sheets. This means you never need to start all over again with breakdown and planning because you had a script change. You just add and adjust for the new material!
Dramatify's breakdown allows you to breakdown per script as usual, but you can also choose to breakdown per character, set or the latest updated scenes.
The Script Breakdown and the Final Draft / .fdx screenplay importer
The breakdown is deeply integrated with our Final Draft (.fdx) screenplay importer and will flag the latest updated scenes if you so choose.  When you import a screenplay as well as sync a rewrite, a lot of scene information will be automatically imported to the breakdown, including Final Draft's scene notes and most of the tags.
Allowing different professions into the Script Breakdown
Since Dramatify is an online collaboration platform, you can collaborate around the breakdown. Apart from regular, full access for the AD or the line producer, you can also allow other team members into the breakdown in a limited fashion. That means that team members from props, wardrobe, makeup & hair, set design, casting and art/graphics can add scene items and notes to the breakdown for their specific area of responsibility but not affect any other breakdown information.
Split scenes in the script breakdown
If you need to split a scene into two or more parts, it only takes a click. Each scene part will keep the scene number, the scene header and the scene text. All other scene information can differ from part to part; characters, set, location, scene items, synopsis, timing & duration etc. (Note: Scene splitting is not available for entertainment rundowns.)
Unique Dramatify Script Breakdown features
Dramatify has a number of unique script breakdown features. For instance, you can add images, tags and options to scene items, specific department notes and director's notes in addition to regular breakdown notes. You can also create locations and attach to sets straight from the breakdown which means that you can create the location list with notes for the location scouts at the same time as you are breaking down the script.
What happens to the script breakdown information?
The breakdown information is presented in a number of different ways to satisfy different requirements:
The Breakdown report can be filtered in various ways and you can show or hide scene item information and notes as well as characters and atmosphere characters
The scene item list can be filtered in a number of different ways and scene items can be added, deleted and edited.
The scene item Day out of Day grid works in tandem with Scheduling to present when different items are scheduled to be used.
Any breakdown information and scene items related to a character or a set are automatically added to the character page or the set page.
Story order stripboard is a read-only stripboard report engine.
Smart breakdown integrated with all other functions
Full or partial access depending on role
Breakdown & notes for props, wardrobe, makeup & hair, sets, cast & graphics
Split scenes into scene parts
Add image, tags and options to scene items
Smart lists for cast & scene items
Integrates with…
Check out the features that Dramatify's breakdown automatically integrates with and lets you collaborate with other production members.
Try Dramatify today!
30 day free trial. No credit card required.