Scheduling for film, drama, TV & video
Multi-scenario scene scheduling on the web is a first! Create any number of different shooting schedules,  import and export days on the fly from other schedule scenarios and publish to the team with a click!
Smart integration with character management and cast schedules makes sure cast members are available when you schedule them!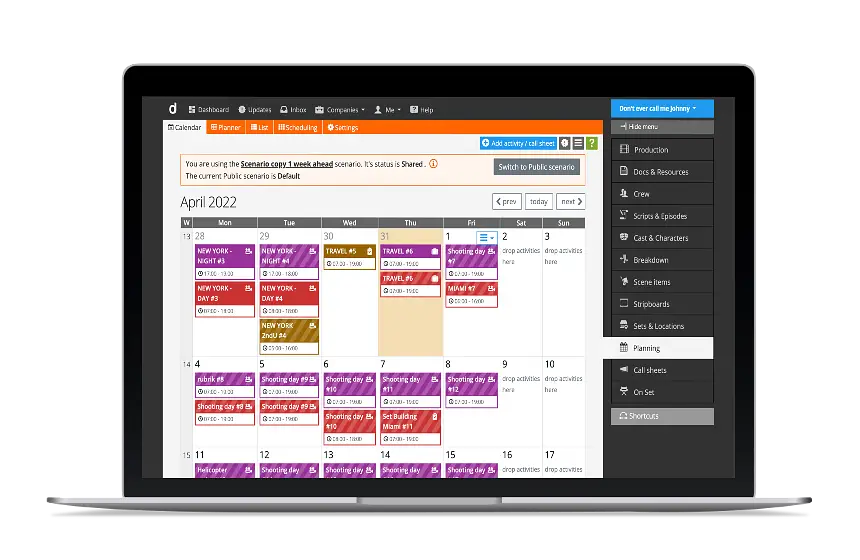 Shooting plan overview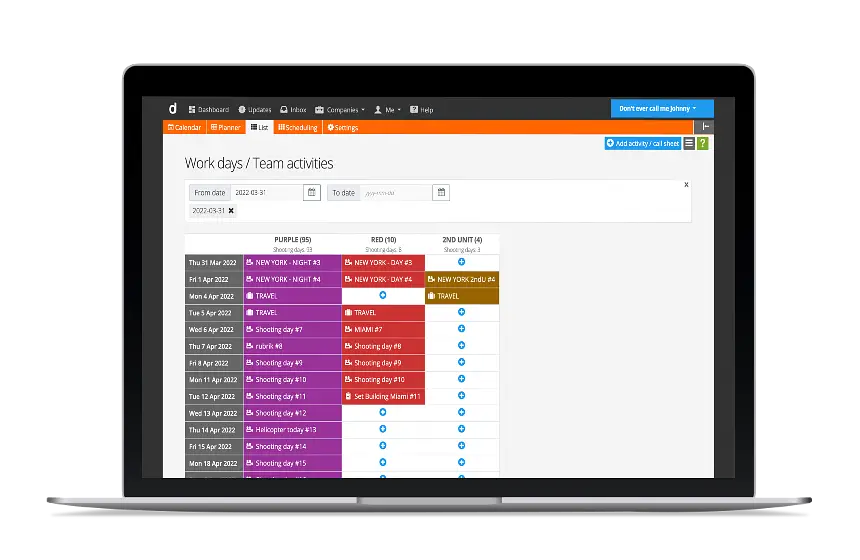 Atuomatic production team overview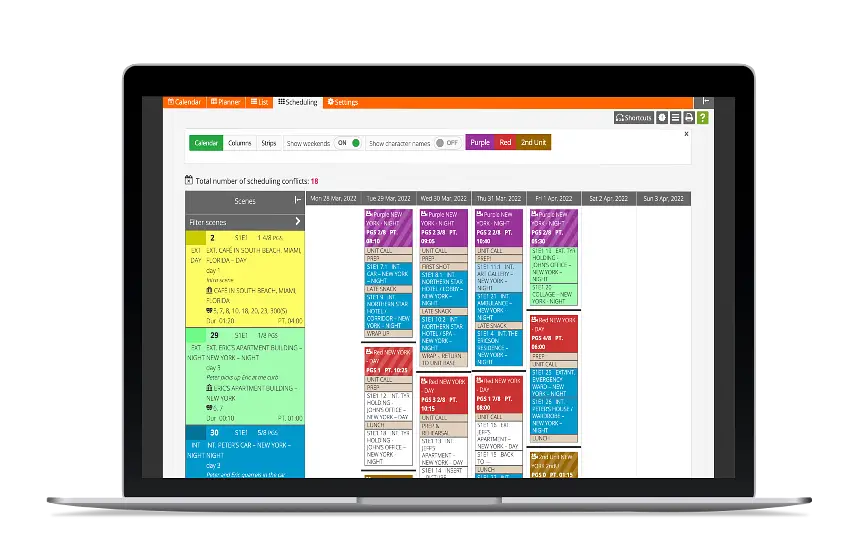 Shooting scheduling - calendar overview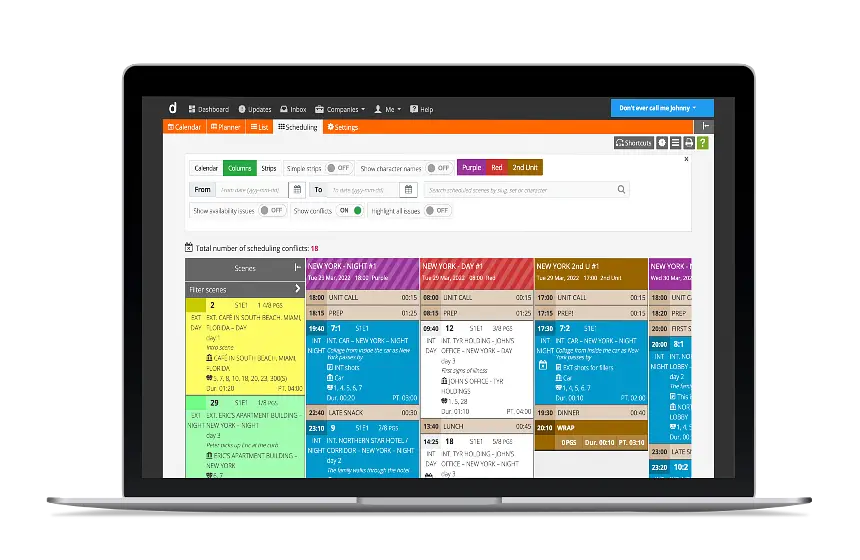 Shooting scheduling - column view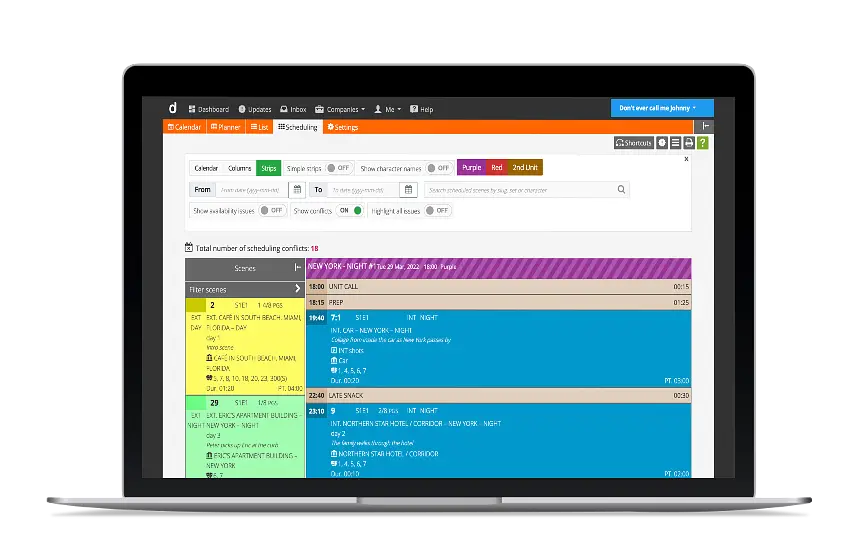 Shooting scheduling - strip view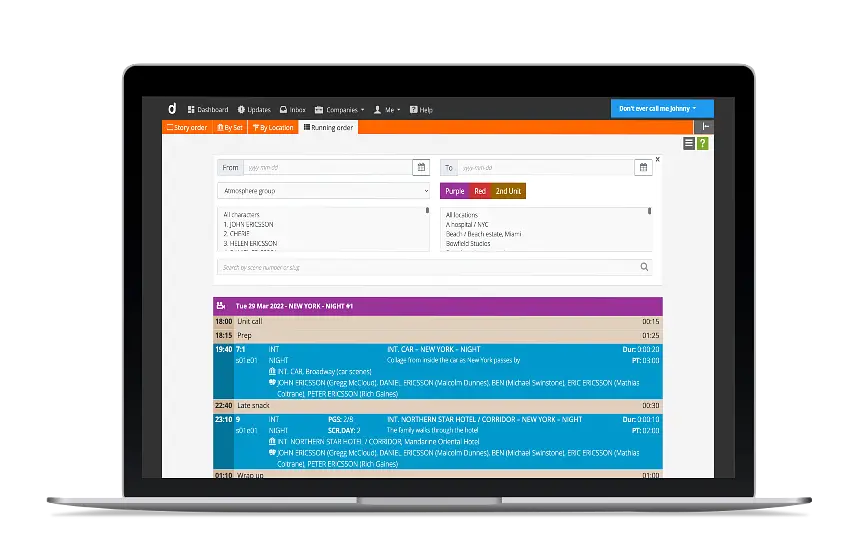 Automatic Running Orders with team access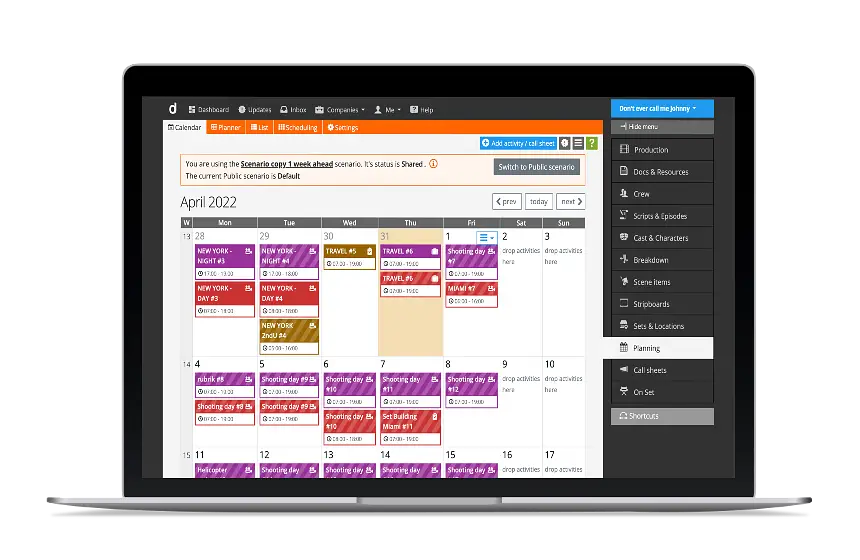 Shooting plan overview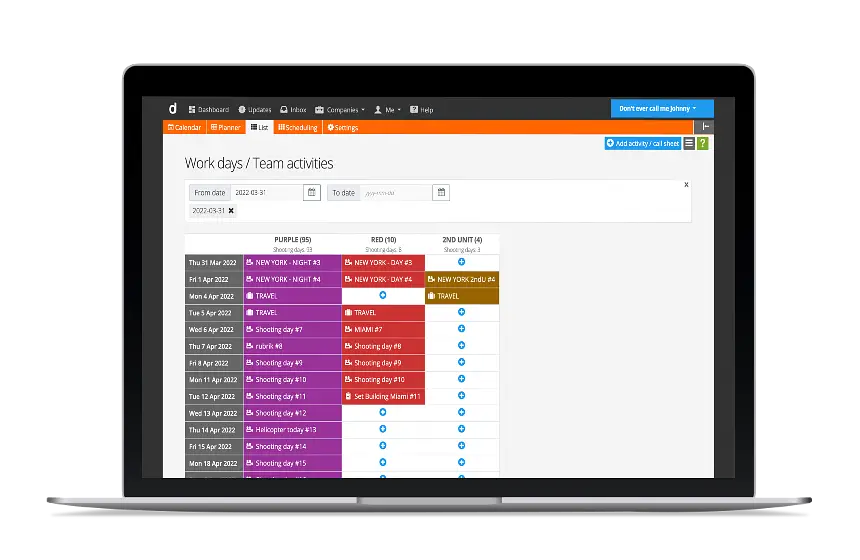 Atuomatic production team overview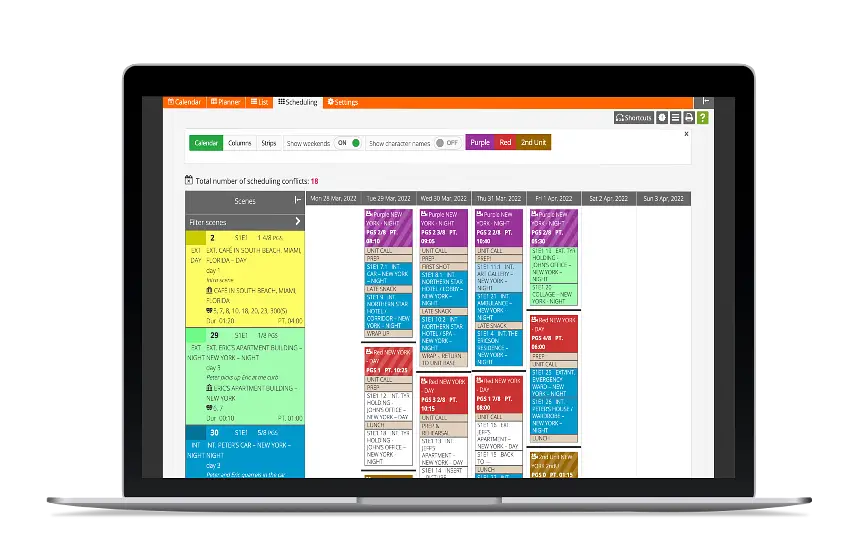 Shooting scheduling - calendar overview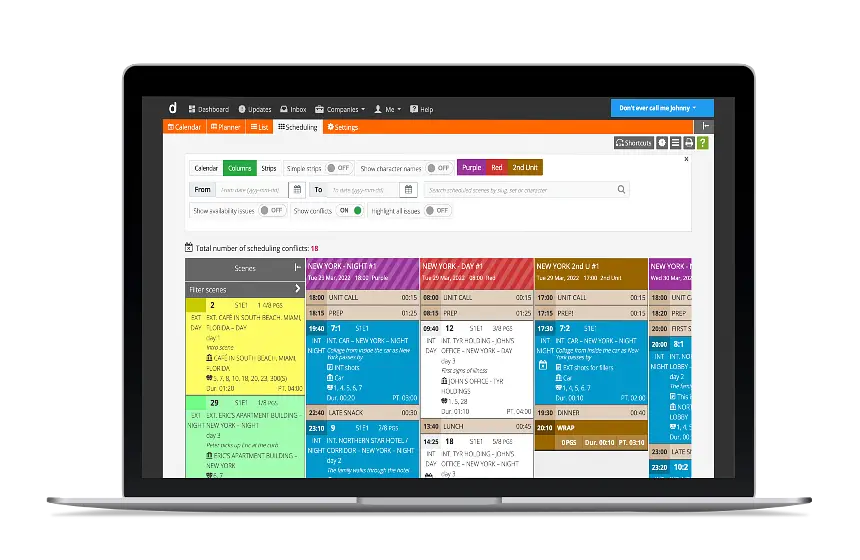 Shooting scheduling - column view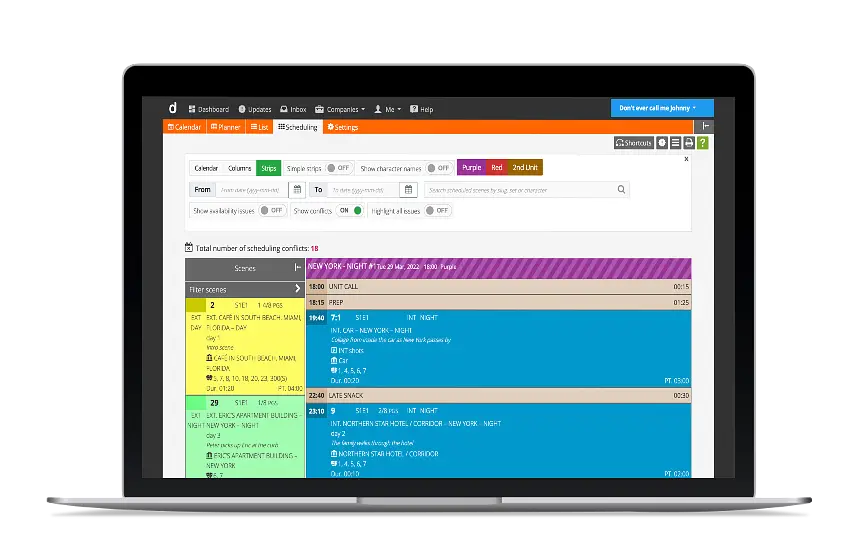 Shooting scheduling - strip view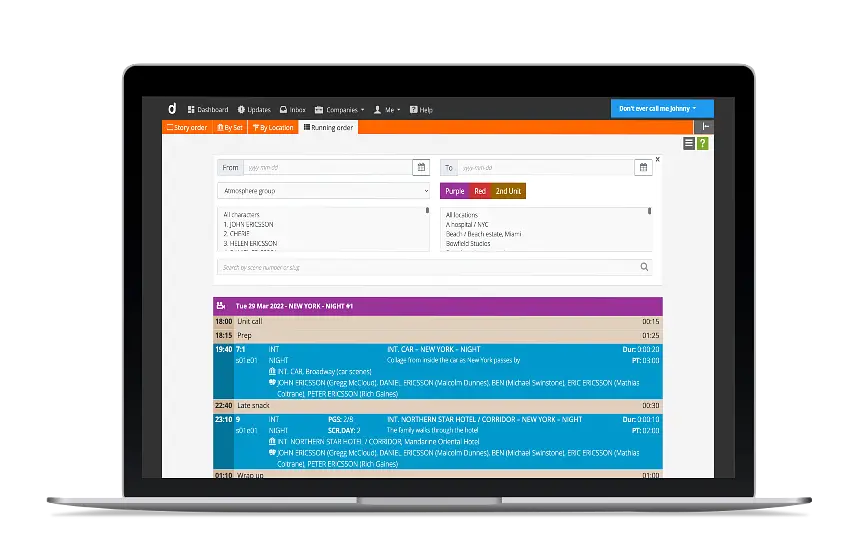 Automatic Running Orders with team access
Shooting scheduling – with multi-scenarios, bulk-add and easy drag'n'drop!
Scheduling your film, drama, video, documentary or TV production is fast and easy in Dramatify with innovative multi-scenario scheduling, smart automation and integrations and a user-friendly drag'n'drop interface. Schedule an unlimited number of episodes with up to five simultaneous teams, each with its own call sheet.
Schedule multiple scenarios and reschedule on the fly!
Smart bulk-scheduling of scenes with day finder
Schedule unlimited episodes and up to 5 simultaneous teams
Any new scenes will automatically show up in the scene list. You can't miss anything!
It's fast and easy to schedule with Dramatify. The platform offers smart integrations, bulk-scheduling of scenes and multiple scenarios/versions allowing you to reschedule on the fly!
Multi-scenario scheduling
Multi-scenario schedules simply mean that you can do any number of alternative shooting schedules for your production, AND import and export single team days between schedules. You can also keep your schedule completely private, share it with a few key members or make it public for the team.
This means that you can start with creating an empty schedule that you publish to the team. This way you hide your real schedule until it's ready. You create one shooting schedule and then – if needed –  alternatives. If you share them with your key team members, they can see how your different scenarios affect for instance cast scheduling or locations. Publish the agreed version and your team members with access can see the finished result as read-only stripboards, character stripboards for wardrobe, makeup, shooting day information in cast and crew scheduling, locations and hair as well as the foundation for call sheets.
Another way of using scenarios is if you're worried about a specific event, say bad weather. You can then create a small scenario of a day or two with alternate scheduling. If and when the weather requires it, import the alternate scheduling to your published schedule. Of course, you also can switch out your entire published shooting schedule as well if you prefer!
Smart integrations
Scheduling integrates with many other features in Dramatify. As you add shooting and working days to the calendar, those are mirrored in the scheduling. The scenes you schedule are directly added to the call sheets so there is one point of truth, and when you schedule you can choose to check if cast members are available. At the same time, Dramatify will also warn you of any uncasted characters.
As you work with scheduling, workdays will be added to the crew scheduling, cast scheduling, the character casting sheet, day out of day (DooD) report for both cast and scene items, and the running order.
Fast scheduling with smart bulk scheduling
To make scheduling as fast and easy as possible, Dramatify has added a number of helpful features:
Standard working hours – if your shooting will keep somewhat standard hours, you can set them once and then change where you need to, for instance for evening or night shoots.
Standard banners – you can set up a "package" of standard banners with or without a duration that you usually add to a shooting day and then add them with a click. If you modify them, all new additions will reflect your new setup.
Bulk-scheduling – filter and identify scenes from common attributes; location, int/ext, set, characters, time of day or a mix, select which of them you want to schedule, add how maximum shooting hours per day and either set the first day to start OR let Dramatify automatically find the first available day, then click go. Dramatify will match and schedule your criteria to the best of its ability and you can then do the detailed work.
Split scenes and adjust duration and production times – You can split scenes both in the breakdown as well as in scheduling – as many times as you like, as well as adjust page length, duration and estimated production time. The latter three are summarised at the end of each team day so you can keep an eye on working hours and results.
Integrates with your script
Regardless if you produce fiction or non-fiction, the planning feature is totally integrated with your screenplays, AV-scripts and rundowns.
More scheduling features!
Check out our other scheduling features that integrate with shooting scheduling & call sheets!
Try Dramatify today!
30 day free trial. No credit card required.