Automatic and read-only running orders for your team to access and customise!  Works directly off your scene scheduling.  Always the latest version in a paperless workflow (unless you insist)!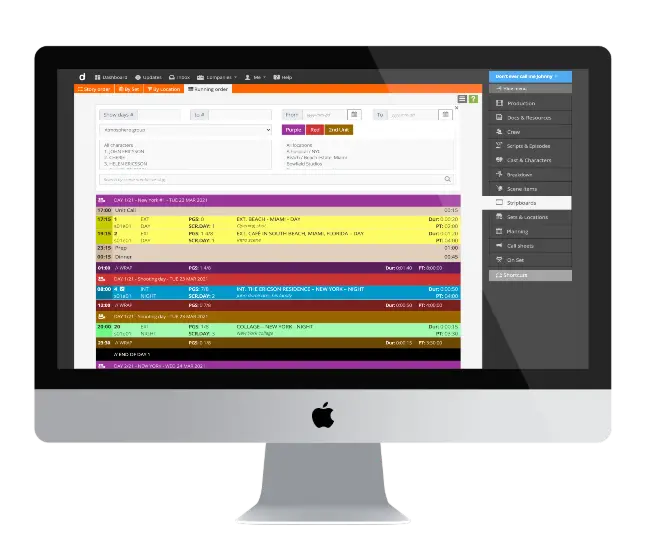 Rundowns - easy to customise!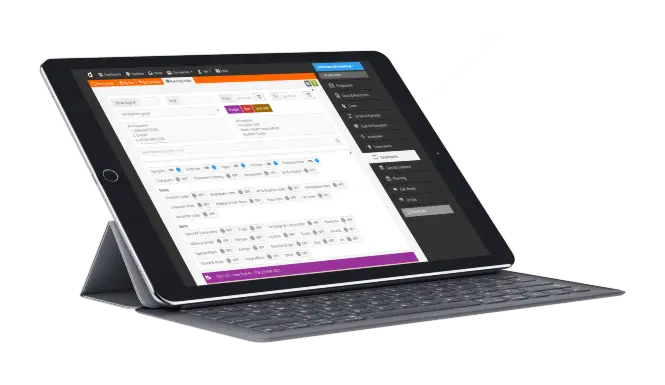 Running order filters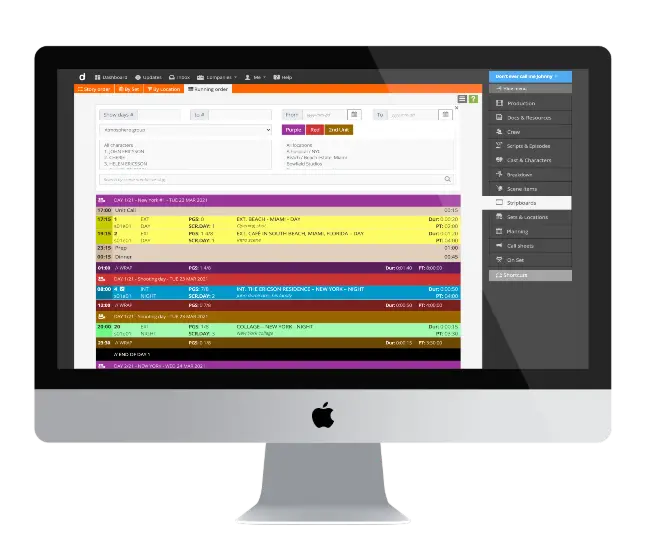 Rundowns - easy to customise!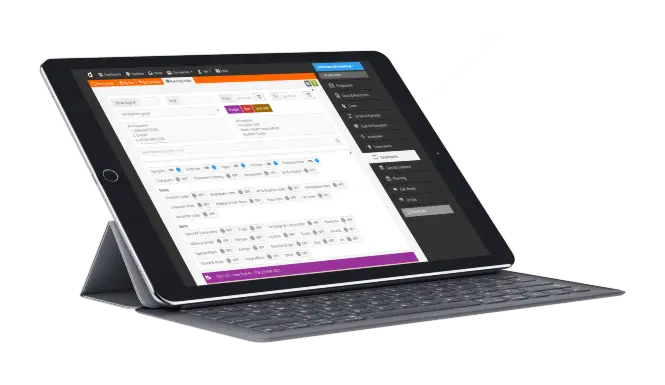 Running order filters
Running orders with flexible filters and easy customisation
Dramatify's running order stripboard is an automatic feature from the scene scheduling feature. It's a read-only stripboard with easy customisation – just click – which means that many crew members can get access to create and fetch their own reports. 
Running orders for teams – and socially distanced productions
Dramatify's stripboards and reports are truly extraordinary. Not only with a lot of smart features but also team-enabled. That means that you can grant access to anyone in the team who needs them, and they can get their own – always updated – information.
The Running Order stripboard in Dramatify is an automatic read-only report for drama, film, entertainment, commercials and non-fiction. It's based on scene scheduling and the script breakdown and made for teamwork as you are able to grant various members of the team access to format and customise their own reports.
Running orders – a powerful report engine
Since the running order stripboard is team-enabled and easily customised through search, dropdown filters and show/hide buttons, many of the creative roles in the team can use it to create their own reports beyond the running order, e.g. cast planning, costume continuity, vehicle management etc.
Search: The running order can be searched on specific scene numbers or scene header names
Filters: It can be filtered on teams, production days, date range, character, atmosphere cast and locations.
Show/hide: Further, by showing or hiding specific information, you can format the strips as you need by including or excluding information from duration and production time to sets, locations, scene parts, characters/cast, scene items, breakdown notes from various departments as well as statistics of the current selection.
      = This makes running orders a very powerful reporting engine for many members of your team.
Stripboards that handle split scenes and multiple teams
The Running Order and its sister features Story Order, Stripboard by Set and Stripboard by Location, handle multiple teams as well as an unlimited of split scenes. Scenes can be split both in the scene breakdown as well as in the scene scheduling and easily dropped on different teams, say live-action, SFX and CGI. The Running Order stripboard will naturally exactly reflect your scheduling.
Running order for mobile
Dramatify conveniently shows you and your team the production stripboards formatted for the screen of your favourite device, may it be your smartphone, a tablet, a computer or the office big screen TV at a staff meeting.
Running order for print
If you want to print your stripboard, you can format it with a few easy clicks – add or remove information, filter it on teams or certain shooting days, as well as add a headline and an intro text. The printed running order will automatically feature your production company logo.
Read-only stripboard view of scheduling
Self-service reports for crew members with access
Smart filters to display exactly the information you need
Fast formatting for both digital views and print
Try Dramatify today!
30 day free trial. No credit card required.