Share all your important documents easily!
Share folders, documents, files, links and resources in one place! Quickly select which departments and persons to share with, or share with everyone!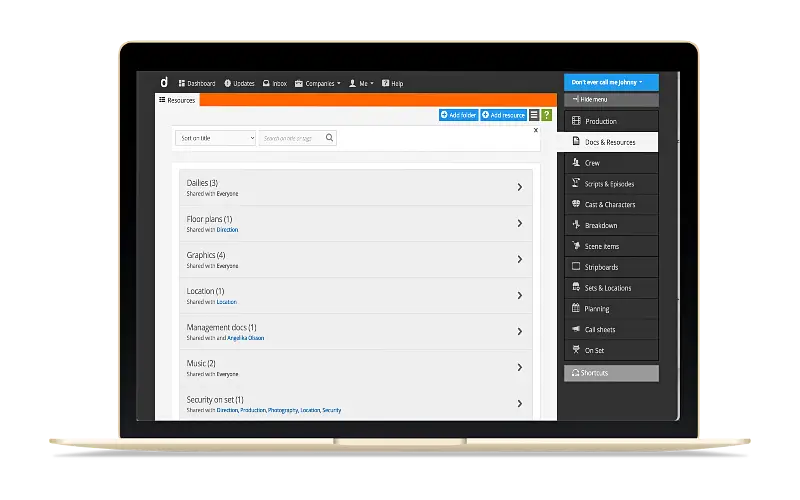 Share files, folders & links with your team!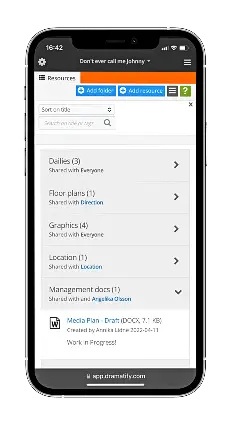 Share and access your production files on the go!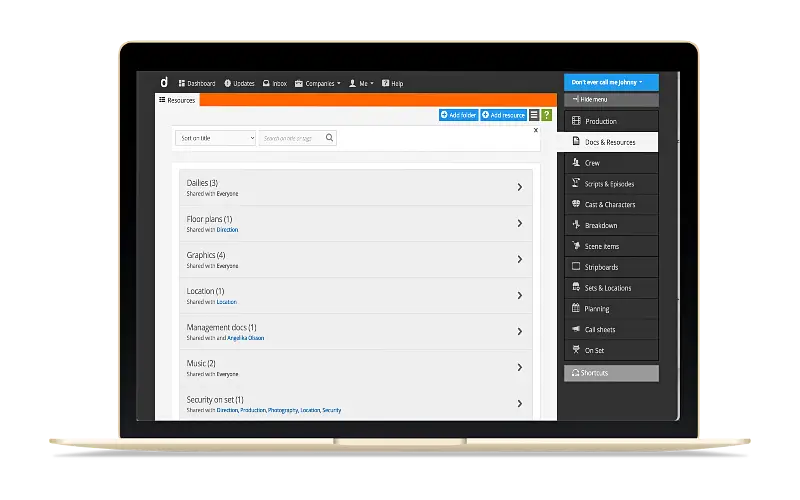 Share files, folders & links with your team!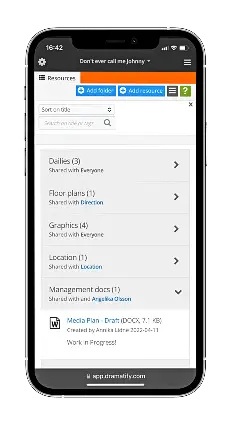 Share and access your production files on the go!
Share all your important folders, documents, links and resources easily!
Share your important production folders, files, documents, images and links with your team in one place – share with specific people, departments or with everyone in the production. See the latest files across your productions on the dashboard!
Most productions use pdfs, Excel templates or Word documents for screenplays, AV scripts, call sheets and team lists. All that is already included in Dramatify through our basic functionality that formats everything perfectly for the device you are using, regardless of if the screen is huge or tiny.
However, there might be a lot of other documents you want to share for your TV, film, video, commercial or VR/360 production. It can be anything from templates and policies to production schedules, bookings and so on. In Dramatify you can upload a variety of different file formats; pdf, .doc, .docx, .xls, .xlsx and .zip and the maximum upload size is 10MB. 
Share links and resources
You can also share links to content with your team, from web pages to resource links to large audio, video and graphics files. This makes it easy to collect everything from theme music to intro graphics and dailies in one place without having to wait for big uploads.
Organise and share folders
You can organise your content into folders and share it with specific departments and/or specific people. Any new members of those departments automatically get access to already shared content and files.
Less risk of accidental deletion
Compared to other solutions like Dropbox, there is also less risk that team members accidentally delete files as they are at all times well aware that the file is on Dramatify, and not in a folder on the computer. To delete a file, you consciously have to choose that alternative AND either be the original uploader or an admin. Also, the file on Dramatify is always an uploaded copy, so the original is safe on your computer.
Happy sharing!
Upload & share any kind of document or file with your team
Share links with your team
Share resource links for sound or video with your team
Try Dramatify today!
30 day free trial. No credit card required.