Finland's public broadcaster YLE is leading a noteworthy departure from traditional TV production methods, opting for innovation and sustainability. Collaborating with the Yle X summer pop festival, YLE has effectively employed a digital-first workflow and Dramatify to streamline the management of an extensive 180-page rundown – 7 hours of live entertainment. This approach sets a new precedent for environmentally-conscious production and industry advancements.
In the heart of Helsinki, Finland, a remarkable transformation is underway in the world of TV production. The driving force behind this shift is YLE, the pioneering public broadcaster that has chosen innovation over tradition, embracing a digital-first workflow to revolutionize the industry. YLE's commitment to sustainability and efficiency has recently been exemplified through its collaboration with the iconic Yle X summer pop festival, where a record-breaking 180-page rundown was efficiently managed using the integrated platform, Dramatify. In this article, we explore how YLE's forward-thinking approach is setting new standards in TV production, leading the charge towards a greener, more streamlined future.
A Decade of Digital-First Commitment
Over the past decade, YLE has championed a digital-first approach to TV production, redefining the conventional methods and practices that have long dominated the industry. This transformative shift has revolutionised how productions are planned and executed and sparked a change in attitudes amongst crew and cast alike. By prioritizing digitization, YLE has paved the way for more efficient, eco-friendly, and collaborative production processes that set a high benchmark for the global broadcasting community.
Remote Collaboration and Paperless Production
The true test of YLE's commitment to innovation and sustainability came to the forefront during the Yle X summer pop festival held in the enchanting castle grounds of Hämeenlinna, Southern Finland. The event showcased YLE's ability to manage a staggering 180-page rundown for the festival's programming, all facilitated by the power of Dramatify, their integrated production platform. This achievement was made even more remarkable because the entire process was conducted remotely, spanning across the festival site, YLE offices, and even the homes of individual team members.
Assistant Producer Terhi Norvasto, who was at the helm of managing the pop concert stream and live broadcast, highlighted the drastic reduction in paper usage that was made possible by the digital workflow. In her own words;
"Previously, we printed hundreds of rundowns for the crew and the artists. This time around, I only printed ten copies and ended up discarding eight. Only the vision mixer and one sound operator requested a physical copy."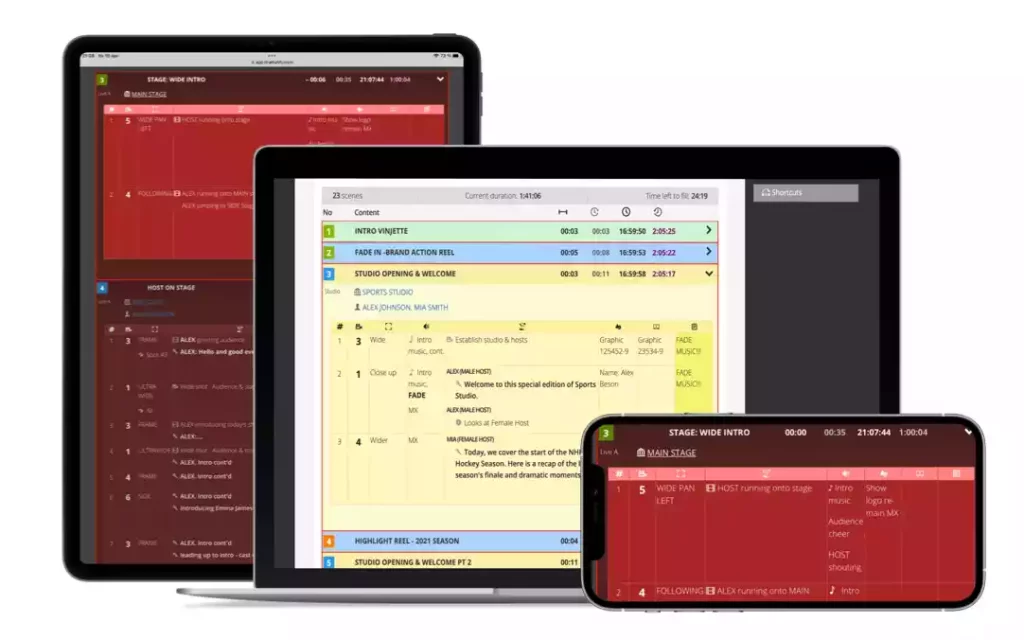 Dramatify: The Heart of Efficiency and Eco-Friendly Productions
At the core of YLE's transformation is Dramatify, the comprehensive digital-first platform that serves as the nerve centre for all production-related information. From camera details and song lyrics to host actions and dialogues, Dramatify consolidates every aspect of the production process into one cohesive hub. The platform seamlessly coordinates playouts from the Outside Broadcasting (OB) van, automatically syncing with the mobile devices of the technical crew and camera operators. This streamlined integration enhances efficiency and significantly reduces the environmental impact of traditional paper-based methods.
Revolutionizing Efficiency: Dramatify's Impact
Rami Lindholm, a supervisor at YLE's Media & Content division, emphasized the substantial positive impact Dramatify has had on production efficiency and sustainability. The platform has streamlined workflows and eliminated unnecessary waste by eradicating the need for extensive email communication and reams of paper printouts. Lindholm explained;
"We get lost in emails and can no longer find the relevant information. Now each person just filters the relevant data for themselves in Dramatify, keeping everyone updated with the show's requirements in real-time."
Lindholm also underscored the platform's role in reducing YLE's carbon footprint by eliminating team members' need to commute or be physically present at the production site. Furthermore, the seamless integration of teleprompters through Dramatify has removed the need for manual import and export of rundowns using memory sticks, simplifying the process and enhancing sustainability.
A New Benchmark for Sustainability and Innovation
YLE's unwavering commitment to sustainability and innovation has set a new benchmark for the TV production industry worldwide. By embracing digital-first workflows and cutting-edge platforms like Dramatify, YLE has proven that tradition can be reimagined, resulting in more efficient, eco-friendly, and collaborative production processes. As the global broadcasting community continues seeking greener methods and enhanced efficiency, YLE stands as a shining example of how change can be transformative and sustainable.
Charting a Green Course: YLE's Vision for a Sustainable Production Future
The landscape of TV production is evolving, and YLE is at the forefront of this exciting transformation. With a resolute commitment to innovation and sustainability, YLE's digital-first workflow and integration of platforms like Dramatify are setting new standards in the industry. Through successfully managing a 180-page rundown at the Yle X summer pop festival, YLE has proven that green, efficient, and collaborative production methods are possible and essential for the future. As other broadcasters worldwide look to adopt more eco-friendly practices, YLE stands as an inspiration, showing that innovation is the key to a brighter, greener, and more efficient tomorrow.