In fierce competition with 170 European media tech startups and scaleups, Dramatify has won a development grant from the European media tech accelerator Stadiem. The initial amount is €70 000 for developing modern, integrated, automated production budgeting. 
Stadiem is the European media tech innovation accelerator funded by the European Union's Horizon 2020 research and innovation programme under grant agreement No 951981 and is organised directly under the European Commission. Dramatify applied in February and was among the 40 companies selected for the initial Match phase, running in May and June.
The project: Developing modern, integrated, automated production budgeting
Money is what the entertainment business runs on. It sets the scope and limits of the creative project, regardless if it is the Euros in soccer, the Eurovision Song Contest, a movie, factual entertainment series or branded content. Despite this, most budgeting is still done in single-user desktop programs, which makes sharing difficult,  and smart integration and workflow automation impossible. In cases where modern systems exist, as in broadcaster corporate financial systems, they are not developed for the specific requirements for production budgeting, making the process laborious and unnecessarily slow.
As high as 80 per cent of Dramatify's potential clients, producing all genres, are asking for integrated budgeting. Even for large companies, the process today involves mind-numbing amounts of budgeting work and copy-pasting into other systems. Just as Dramatify has revolutionised the production workflow with collaboration, ease of use and information empowerment, we will do the same to production budgeting.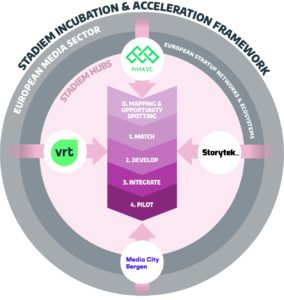 Match phase: Securing partners
The Match phase's main task was to find and secure a co-creation development partner. Dramatify secured three: The Nordic drama powerhouse SF Studios, the Finnish public broadcaster YLE and the exciting storytelling company Storyfire which works with drama, documentaries and branded content. The three co-creation partners represent different kinds of productions and different sizes of companies and financial structures. Also, production budgeting is not an ongoing, always existing process. It happens when there are productions in development and pre-production; not even large companies can guarantee to have productions in that stage for the final piloting phase next summer. But with three co-creation partners, one should be able to be our piloting partner.
Development phase: Building a modern production budgeting system
After applying to the Development phase, the field was narrowed down from 40 companies to 25 that got to pitch. Only 16 were selected and Dramatify among them. Development started in August and will be finished at the end of January.
Integrate & Pilot phases
The following phases are also by application and hard selection. If selected, Dramatify will unlock another €70 000 for integration and live piloting. Regardless if we are selected, we are committed to developing the best budgeting and financial solution on the market for our industry in the coming years.
Soft money
Getting the development grant from the EU means that Dramatify does not have to spend investor capital and equity on developing the much-requested budgeting feature but can instead seek capital for growth and expansion. Interested in growth investing? Contact us for a chat!