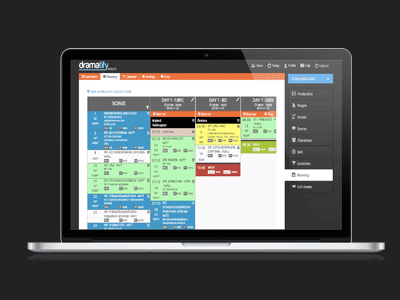 Plan and schedule your production – with easy drag'n'drop!
Planning and scheduling your production should be smart and easy, not something to tear out your hair over.
With Dramatify's new drag and drop interface, you can plan and schedule any number of episodes with up to five simultaneous teams, each with their own call sheet.
It's super simple to plan and schedule with Dramatify. After linking scenes, characters and sets together in the breakdown, head over to the planning grid to add production days. Drag and drop scenes from the scene list in the left-hand column on to the correct production day and team. Smart filters and standard strip-board colours makes it easy to plan similar scenes together. When the left-hand column is empty, you know that you have planned all your scenes.
Add flags and banners
In each column you can add flags  as well as banners for any non-scene event that you want to plan during the day.
Page and production time estimates
At the bottom of each column Dramatify on the fly automatically calculates an estimation of
total number of script pages.
estimated finished material for that day and team.
estimated production time for that day and team. This lets you keep an eye on total working hours!
Splitting and unsplitting scenes
Today, as filming becomes more complex, the need to split scenes into several parts increase. Scenes can be split as many times as you like and different parts can be split on several days and / or several teams. It's perfect for productions with a lot of CGI and special effects. You can add notes, time and page information to each split part.
Calendar view
Add dates to production days either manually in the Calendar or in bulk in the Days overview.
DooD – Day out of Days
Beside the scheduling, you also find the Day of of Days report for cast, making it easy to pull up into a new browser tab and use alongside the scheduler to optimise cast and extras days.
Cast & crew scheduling
Dramatify also features a comprehensive crew scheduling and daily cast scheduling with information that is automatically added into the call sheets.
Days overview
The planning tool also includes a view of unpublished and published call sheets for all production days and teams. This allows you to quickly navigate and get an overview of your work.
Integrates with your script
Regardless if you produce fiction or non-fiction, the planning feature is totally integrated with your screenplay , AV-script and multi-camera live/studio script.
Easy drag'n'ndrop interface
Schedule unlimited episodes
Schedule for up to 5 simultaneous teams
Great filters that quickly let you find the scenes you want to schedule
Any new scenes will automatically show up in the scene list. You can't miss anything!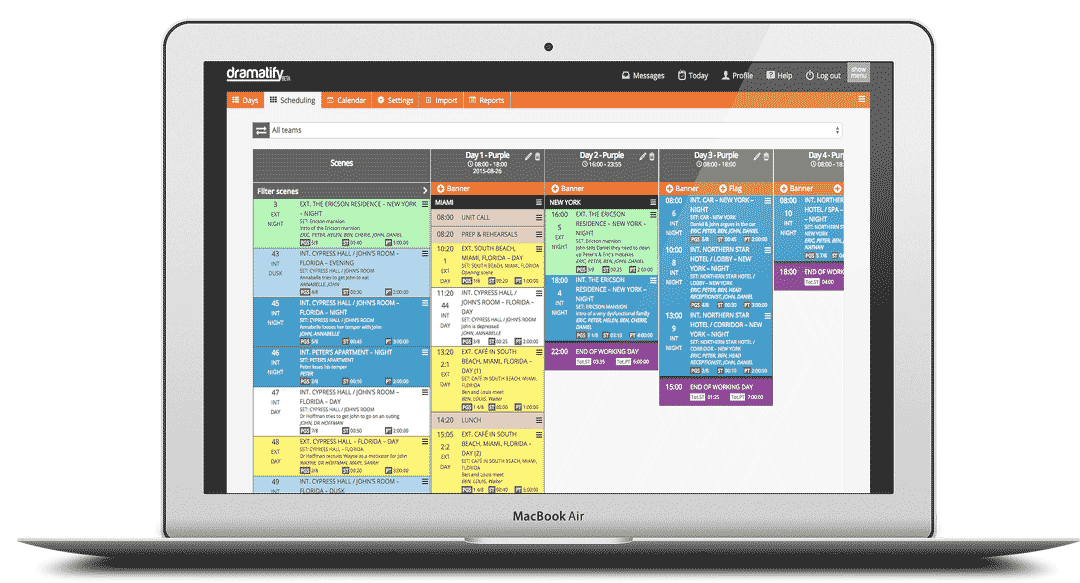 Ready to for more efficient production management?
Trying Dramatify is free. No credit card required.
Sign up now!