Cue cards – automatic & integrated!
Yes, that's right! Automatic cue cards, integrated from your rundown, digital and print with four different fonts and a number of font sizes!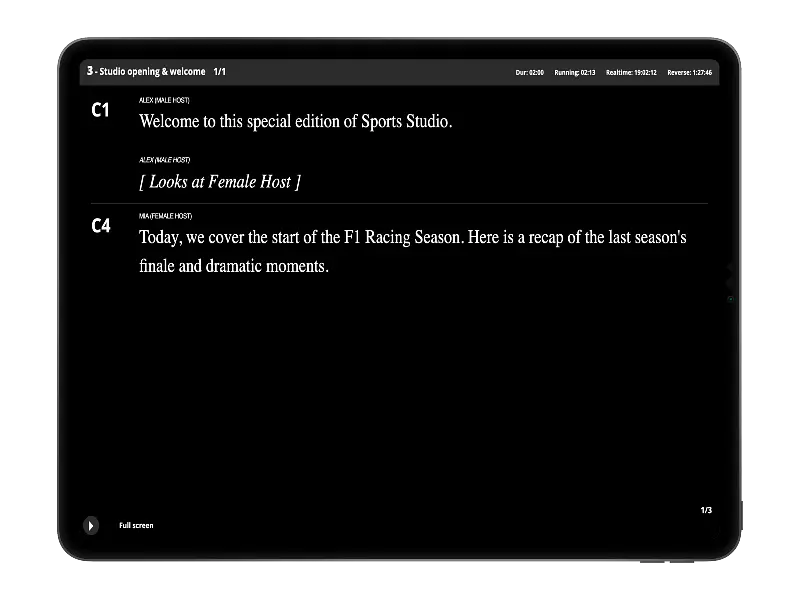 Automatic, digital cue cards for tablets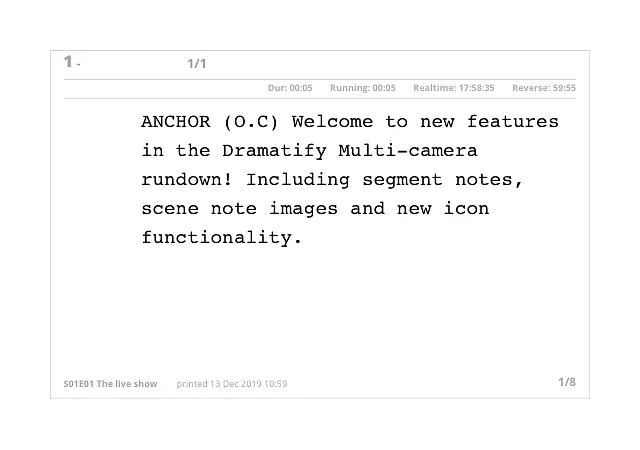 Automatic, integrated cue cards for print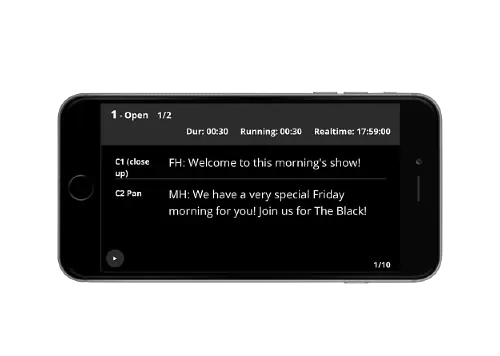 Automatic, integrated cue cards for smartphones
Cue Cards – integrated with the rundown! For tablets, smartphones and print!
Cue cards in seconds! No more time-consuming formatting. No more paper craft. No more cutting, glueing and sorting just before the show. Just print your cue cards directly from the rundown – or bring them up on your tablet or smartphone. That's efficient production! 
Dramatify's cue cards are integrated with our world-class multi-camera rundown script format making it effortless to keep up with last-minute additions and changes as well as the option of a completely paperless production flow. 
Cue cards integrated with the rundown
As you write your script in the multi-camera rundown, the cards are automatically prepared. By marking your dialogue, you prepare not only the cue cards but also teleprompter exports.
In-line camera instructions
In addition to dialogue, Dramatify also includes any information in the camera column such as camera number and camera instructions.
Due to Dramatify's segment tool, each camera and camera instructions are always in line with the relevant dialogue information – making it easy for the host to address the correct camera.
Time codes
Dramatify automatically includes a few pieces of information: 
Scene number and scene heading
Pages per scene
Time codes – that reflect the setting options in the rundown

Scene time
Running time (accumulated scene time
Real-time (i.e. broadcasting time)
Reversed time (i.e. planned time left)
Swipe through the cards
The digital cue cards are designed with white lettering on a black background for maximum readability. With a few clicks to customise the cards in regard to typeface and text size, you access the digital cue cards. To navigate between cards, you simply swipe. There is also a jump menu if you need to jump backwards or forwards. 
Print cue cards in a variety of paper sizes
With a few clicks to customise the printed cue card regarding to typeface and text size as well as paper size, you generate them on the fly. The printed cards are black lettering on whichever paper colour you choose to print on, with additional information in grey. 
Additional information includes the same information as the digital cue cards such as Scene heading and time codes, but also the following:
Production name and episode number
Print time and date
Page number 
The cue cards can be printed as
A6 – printed as four cards per A4
A5 – printed as two cards per A4
A5 – printed on A5 cards directly
A4 – either printed as landscape or portrait
Should you need a different paper size, please let us know! 
Print and view cue cards directly from the rundown!
4 different type faces - including one for people with astigmatism.
Choose between 5 different text sizes
Choose between 5 different print size options
Try Dramatify today!
30 day free trial. No credit card required.