Can I print screenplays, call sheets, lists & reports?
You can print everything in Dramatify, just as from any web page!
Print call sheets
We have taken special care to craft beautiful design for printed call sheets by one of Sweden's best graphics information designers. It brings a whole new look to printed call sheets, emphasising readability and usability. No more crummy tables in 5 point typeface. .
It might seem strange that we put so much work into exactly what we want you to be able to avoid: printing and emailing a lot of paper. The reason is simple though; we don't want any productions avoiding using Dramatify because a few people want to keep to the old ways. We say, let them! We just try to make it gorgeous in the process!
If you want a closer look at a printed call sheet, download the example below. You can always choose to print the blue background as grey, or with no background at all!

Dramatify Callsheet Print Example
Print drama screenplays
Drama screenplays are automatically both watermarked and marked with who printed the screenplay and when. You can also add a custom cover page to your screenplay. Read more about watermarking your screenplay and adding a cover page.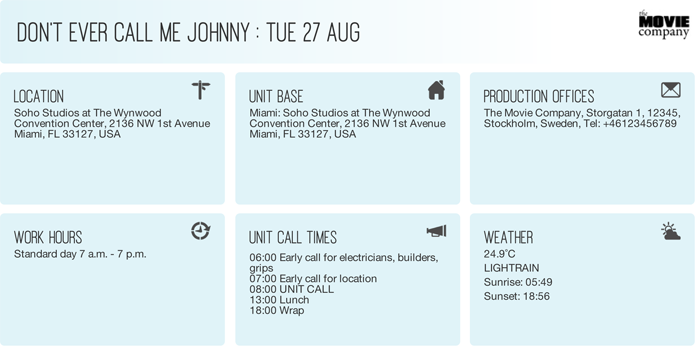 Print lists & reports
You can print everything in Dramatify, just as from any web page. On several functions, you can easily format your printout by showing or hiding information. To print general pages, just use the command "Print" in your web browser.
Ready to for more efficient production management?
Trying Dramatify is free. No credit card required.
Sign up now!